Over 2.5 billion people in 2018 created content and posted it on social media networks basically for free.
But nowadays thanks to Snax, Twitter and Steemit users are already getting rewarded and in the next future this year also Reddit and YouTube users will join the party!
No need to learn a new social platform with the risk of losing part of your adience, so you can go on with your traditional social media.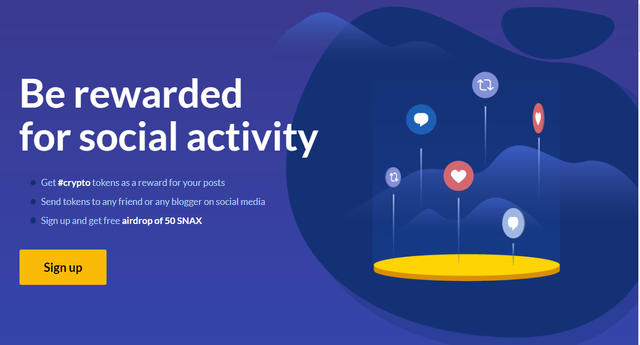 CC0 screenshot from Snax site
You only need to open a Snax wallet, installing the extension on your Chrome browser. Then you have to create a post with the text and tag proposed so Snax can verify your identity. At the end you sign in and you will see your first 50 Snax tokens.
Untill May 31st by writing a post (at least 1000 characters) on Steem about SNAX you will partecipate at the Snax bounty and will be rewaeded with more tokens depending on the amount of you followers.
Every time you post and your followers interact with your content you will be rewarded automatically in your Snax wallet.
For more details you can visit the site https://snax.one/